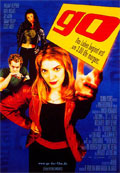 Der NarrenTalk No. 15 wird euch präsentiert von Stefan (StS), René (Alucard), Andreas (daemonicus) und Wolfgang (wolfman).
Trailer
Dieses mal sprechen wir über die Trailer zu New York, I Love You, Law Abiding Citizen, The Fourth Kind, Legion und The Tournament.
Last Seen
Andreas verrät uns seine Meinung zu Operation Walküre, René hatte Immer Ärger mit Harry und Wolfgang sah zuletzt Street Fighter: The Legend of Chun-Li sowie Nick and Norah's Infinite Playlist.
Movie-Review
Als Hauptreview präsentieren wir euch heute mit Go ein Frühwerk des späteren Bourne-Regisseurs Doug Liman.
Show Notes
00:00:00 – 00:01:02 Intro / Begrüssung
00:01:03 – 00:05:20 Trailer: New York, I Love You
00:05:21 – 00:07:47 Trailer: Law Abiding Citizen
00:07:48 – 00:11:18 Trailer: The Fourth Kind
00:11:19 – 00:14:44 Trailer: Legion
00:14:45 – 00:16:55 Trailer: The Tournament
00:16:56 – 00:22:33 Last Seen: Operation Walküre
00:22:34 – 00:26:58 Last Seen: Immer Ärger mit Harry
00:26:59 – 00:35:36 Last Seen: Street Fighter: The Legend of Chun-Li
00:35:37 – 00:40:29 Last Seen: Nick and Norah's Infinite Playlist
00:40:30 – 00:53:19 Review: Go
00:53:20 – 00:54:29 Und Tschüss / Outro
Podcast: Download (Duration: 54:29 — 49.9MB)
NarrenTalk abonnieren: Apple Podcasts | Google Podcasts | Spotify | Amazon Music | RSS