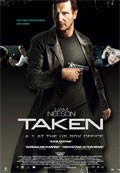 Beim NarrenTalk Nummer 5 habt ihr es dieses mal mit Stefan (StS), René (Alucard), Andreas (daemonicus) und Wolfgang (wolfman) zu tun. Zu hören gibt es heute folgendes:
Trailer
Wir sprechen über die Trailer zu Pandorum, Drag Me To Hell und Blood: The Last Vampire.
Last Seen
In unserer Rubrik Last Seen stellen wir euch die folgenden Filme vor:
Wolfgang: Ip Man (葉問) und Der Baader Meinhof Komplex
René: Undead und Babysitter Wanted
Stefan: Catacombs und Quarantine
Andreas: Redbelt und Rachel Getting Married
Movie-Reviews
Als Hauptreview gibt es heute Taken mit Liam Neeson zu hören, der in Deutschland unter dem Titel 96 Hours läuft.
Show Notes
0:00:00 – 0:01:15 Begrüssung
0:01:16 – 0:05:35 Trailer: Pandorum
0:05:36 – 0:10:02 Trailer: Drag Me To Hell
0:10:03 – 0:13:47 Trailer: Blood: The Last Vampire
0:13:48 – 0:20:24 Last Seen: Ip Man (葉問)
0:20:25 – 0:25:55 Last Seen: Der Baader Meinhof Komplex
0:25:56 – 0:30:11 Last Seen: Undead
0:30:12 – 0:34:44 Last Seen: Babysitter Wanted
0:34:45 – 0:38:45 Last Seen: Catacombs
0:38:46 – 0:45:51 Last Seen: Quarantine
0:45:52 – 0:50:57 Last Seen: Redbelt
0:50:58 – 0:55:59 Last Seen: Rachel Getting Married
0:56:00 – 1:10:26 Review: Taken aka 96 Hours
1:10:27 – 1:11:12 Und Tschüss
Podcast: Download (Duration: 1:11:13 — 65.2MB)
NarrenTalk abonnieren: Apple Podcasts | Google Podcasts | Spotify | Amazon Music | RSS