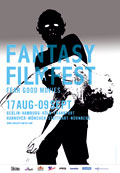 Auch dieses Jahr waren Andreas (daemonicus) und Stefan (StS) wieder auf dem Fantasy Filmfest in Berlin bzw. erstmalig auch in Hannover und haben uns zahlreiche Eindrücke davon mitgebracht.
Während dieses Podcast-Specials werden die Filme
The Pack (La Meute), Red Hill, Chatroom, Kaboom, Centurion, Caged (Captifs), Monsters, The Killer Inside Me, Enter The Void, The Last Exorcism, Black Death, Suck, Tucker & Dale Vs Evil, The Loved Ones und Rubber besprochen.
Show Notes
00:00:00 Intro / Begrüßung
00:00:59 The Pack (La Meute)
00:07:37 Red Hill
00:16:36 Chatroom
00:24:42 Kaboom
00:35:12 Centurion
00:42:33 Caged (Captifs)
00:48:03 Monsters
00:56:29 The Killer Inside Me
01:05:40 Enter The Void
01:13:13 The Last Exorcism
01:22:01 Black Death
01:30:38 Suck
01:37:35 Tucker & Dale Vs Evil
01:42:02 The Loved Ones
01:52:49 Rubber
02:01:43 Fazit / Outro
Podcast: Download (Duration: 2:11:07 — 120.1MB)
NarrenTalk abonnieren: Apple Podcasts | Google Podcasts | Spotify | Amazon Music | RSS