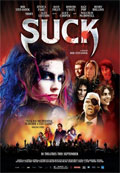 Stefan (StS), René (Alucard) und Andreas (daemonicus) begrüßen euch zu NarrenTalk No. 40.
Trailer
Wir sprechen über die Trailer zu Never Say Never, Drive Angry, Unknown und Scre4m.
Last Seen
Andreas stellt uns The Runaways und Scott Pilgrim Vs. The World vor. Stefan sahParanormal Activity sowie Night Of The Demons und René steckt mitten in Staffel 1 von Veronica Mars.
Movie-Review
Als Hauptreview besprechen wir Suck.
Top-3
Als Top-3 präsentieren wir euch passend zu Suck schauspielernde Musiker.
Show Notes
00:00:00 Intro / Begrüßung
00:01:02 Trailer: Never Say Never
00:05:08 Trailer: Drive Angry
00:09:51 Trailer: Unknown
00:13:44 Trailer: Scre4m
00:18:39 Last Seen: The Runaways
00:24:47 Last Seen: Scott Pilgrim Vs. The World
00:29:56 Last Seen: Paranormal Activity
00:34:44 Last Seen: Night Of The Demons
00:39:59 Last Seen: Veronica Mars (Season 1)
00:46:30 Review: Suck
01:00:34 Top-3: schauspielernde Musiker
01:06:53 Und Tschüss / Outro
Podcast: Download (Duration: 1:08:30 — 62.7MB)
NarrenTalk abonnieren: Apple Podcasts | Google Podcasts | Spotify | Amazon Music | RSS