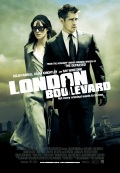 René (Alucard), Stefan (StS), Andreas (daemonicus) und Wolfgang (wolfman) begrüßen euch zum NarrenTalk No. 69.
Trailer
Wir sprechen über die Trailer zu The Dark Knight Rises, Lawless, Chained und Hick.
Last Seen
Stefan berichtet uns von Passion Play. Wolfgang sah The Yellow Sea und The Viral Factor. René stellt uns Puss In Boots (aka Der gesteifelte Kater), Labyrinth und The Avengers vor. Und Andreas sah zuletzt The Three Musketeers (aka Die drei Musketiere), Monster Brawl, The Adventures Of Tintin (aka Die Abenteuer von Tim und Struppi) sowie Jane Eyre.
Movie-Review
Als Hauptreview besprechen wir dieses mal London Boulevard.
Show Notes
00:00:00 Begrüßung
00:00:23 Trailer: The Dark Knight Rises
00:01:55 Trailer: Lawless
00:06:03 Trailer: Chained
00:10:23 Trailer: Hick
00:14:18 Last Seen: Passion Play
00:28:05 Last Seen: The Yellow Sea
00:40:28 Last Seen: The Viral Factor
00:46:40 Last Seen: Puss In Boots (aka Der gestiefelte Kater)
00:50:33 Last Seen: Labyrinth
01:02:46 Last Seen: The Avengers
01:17:48 Last Seen: The Three Musketeers (aka Die drei Musketiere)
01:25:26 Last Seen: Monster Brawl
01:29:36 Last Seen: The Adventures Of Tintin (aka Die Abenteuer von Tim und Struppi)
01:38:41 Last Seen: Jane Eyre
01:43:06 Review: London Boulevard
02:00:01 Und Tschüss
Podcast: Download (Duration: 2:01:33 — 111.3MB)
NarrenTalk abonnieren: Apple Podcasts | Google Podcasts | Spotify | Amazon Music | RSS