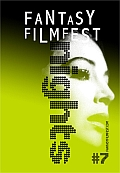 Die Narren sind los! Anlässlich eines NarrenTalk-Specials haben sich Andreas (daemonicus) und Stefan (StS) in den Außeneinsatz begeben und auf den Fantasy Filmfest Nights in Berlin bzw. Hamburg ordentlich Sitzfleisch bewiesen. Ob sich die "Strapazen" gelohnt haben, erfahrt ihr in diesem Podcast.
Alle 9 Filme der 7. FFN werden besprochen. Im Detail sind das: Long Weekend, The Horsemen, Book of Blood, Splinter, Franklyn, The Good, the Bad, the Weird, Dead Snow, My Bloody Valentine und Deadgirl.
Abschließend gibt es noch einen kurzen Ausblick auf das Fantasy Filmfest 2009.
Für das Intro und Outro bedanken wir uns ganz herzlich bei Timo (Liquid Love).
Show Notes
0:00:00 – 0:01:15 Intro / Begrüssung
0:01:16 – 0:06:37 Long Weekend
0:06:38 – 0:17:45 The Horsemen
0:17:46 – 0:22:15 Book of Blood
0:22:16 – 0:29:17 Splinter
0:29:18 – 0:39:58 Franklyn
0:39:59 – 0:48:17 The Good, the Bad, the Weird
0:48:18 – 0:54:19 Dead Snow
0:54:20 – 1:06:54 My Bloody Valentine
1:06:54 – 1:12:39 Deadgirl
1:12:40 – 1:23:36 Fazit / Ausblick auf das Fantasy Filmfest 2009 / Outro
Podcast: Download (Duration: 1:23:36 — 76.6MB)
NarrenTalk abonnieren: Apple Podcasts | Google Podcasts | Spotify | Amazon Music | RSS