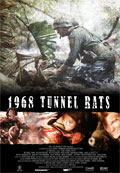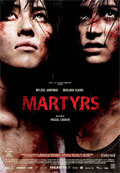 Stefan (StS),Andreas (daemonicus) und Wolfgang (wolfman) präsentieren euch heute den NarrenTalk No. 10.
Trailer
Wir sprechen über den Trailer zu The Final Destination.
Last Seen
Stefan stellt uns heute Terminator 4: Salvation kurz vor. Wolfgang warnt vor Ong Bak 2 empfiehlt dafür aber Slumdog Millionaire genau wie Andreas Drag Me To Hell.
Movie-Reviews
Als Hauptreviews haben wir heute für euch den kontroversen französischen Horror-Film Martyrs und Uwe Boll's Vietnam-Antikriegsfilm Tunnel Rats.
Show Notes
00:00:00 – 00:00:49 Intro / Begrüssung
00:00:50 – 00:05:00 Trailer: The Final Destination
00:05:01 – 00:16:51 Last Seen: Terminator 4: Salvation
00:16:52 – 00:23:25 Last Seen: Ong Bak 2
00:23:26 – 00:31:29 Last Seen: Slumdog Millionaire
00:31:30 – 00:39:05 Last Seen: Drag Me To Hell
00:39:06 – 00:58:16 Review: Martyrs
00:58:17 – 01:22:48 Review: Tunnel Rats
01:22:49 – 01:23:54 Und Tschüss / Outro
Podcast: Download (Duration: 1:23:54 — 76.8MB)
NarrenTalk abonnieren: Apple Podcasts | Google Podcasts | Spotify | Amazon Music | RSS