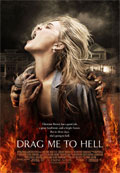 Der 20. NarrenTalk wird euch präsentiert von René (Alucard), Andreas (daemonicus) und Stefan (StS).
Trailer
Zwei Teaser haben jüngst unsere Aufmerksamkeit erregt, nämlich die der beiden kommenden Attraktionen Kick-Ass und Clash of the Titans, ebenso die Trailer zum neusten "Boll-Werk" Final Storm, zu Jerry Bruckheimers aufwändiger Game-Verfilmung Prince of Persia sowie zum "Angelina-Vehikel" Salt.
Last Seen
Zuletzt rotierte Body of Lies – Der Mann der niemals lebte bei Stefan im Player, ebenso wie Transformers II: Revenge of the Fallen bei René und Necromentia bei Andreas. Letzteren zog es zudem mal wieder in die Berliner "Original-Sneak", wo er dann in den Genuss von Zombieland kam.
Movie-Review
Für unsere Hauptbesprechung haben wir uns dieses mal Sam Raimis Rückkehr ins Horror-Genre vorgeknöpft: Drag me to Hell.
Show Notes
00:00:00 – 00:00:57 Intro / Begrüßung
00:00:58 – 00:08:39 Trailer: Kick-Ass
00:05:02 – 00:08:57 Trailer: Clash of the Titans
00:08:58 – 00:14:42 Trailer: Final Storm
00:14:43 – 00:17:44 Trailer: Prince of Persia
00:17:45 – 00:20:33 Trailer: Salt
00:20:34 – 00:30:57 Last Seen: Body of Lies – Der Mann der niemals lebte
00:30:58 – 00:38:18 Last Seen: Transformers II: Revenge of the Fallen
00:38:19 – 00:44:43 Last Seen: Necromentia
00:44:44 – 00:51:56 Last Seen: Zombieland
00:51:57 – 01:08:46 Review: Drag me to Hell
01:08:47 – 01:10:11 Und Tschüss / Outro
Podcast: Download (Duration: 1:10:11 — 64.3MB)
NarrenTalk abonnieren: Apple Podcasts | Google Podcasts | Spotify | Amazon Music | RSS