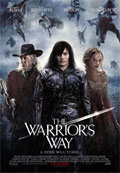 Stefan (StS), Andreas (daemonicus) und Wolfgang (wolfman) begrüßen euch zu NarrenTalk No. 51.
Trailer
Wir sprechen in dieser Ausgabe über folgende Trailer: Another Earth, Immortals, Daydream Nation, Rise Of The Planet Of The Apes, Melancholia und Hesher.
Last Seen
Andreas erinnert sich heute zurück an Excalibur, Dobermann und We Are What We Are, wohingegen Wolfgang I Saw The Devil und The American sah. Stefan ließ es mit Cyborg (Director's Cut) und Battle: Los Angeles krachen.
Movie-Review
Unser Hauptreview ist in dieser Ausgabe The Warrior's Way – ein Titel, den wir so auch für die Verfilmung unseres Podcasts gewählt hätten!
Show Notes
00:00:00 Intro / Begrüßung
00:00:47 Trailer: Another Earth
00:03:48 Trailer: Immortals
00:08:04 Trailer: Daydream Nation
00:11:14 Trailer: Rise Of The Planet Of The Apes
00:16:42 Trailer: Melancholia
00:21:20 Trailer: Hesher
00:23:18 Last Seen: Excalibur
00:29:03 Last Seen: Dobermann
00:34:35 Last Seen: We Are What We Are
00:39:42 Last Seen: I Saw The Devil
00:49:21 Last Seen: The American
00:58:15 Last Seen: Cyborg (Director's Cut)
01:09:10 Last Seen: Battle: Los Angeles
01:18:33 Review: The Warrior's Way
01:32:54 Und Tschüss / Outro
Podcast: Download (Duration: 1:33:48 — 85.9MB)
NarrenTalk abonnieren: Apple Podcasts | Google Podcasts | Spotify | Amazon Music | RSS