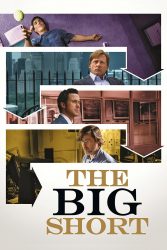 Wolfgang, Stefan und Andreas begrüßen euch zum NarrenTalk No. 147.
Zu Beginn gehen wir auf ein Feedback unserer Zuhörerin Sandra hinsichtlich unserer Besprechung des Films Nightcrawler im NarrenTalk Podcast No. 126 ein.
Trailer
Wir sprechen über die Trailer zu Aftermath, Fabricated City, Vengeance: A Love Story, Song To Song, The Bad Batch und Colossal.
Last Seen
Andreas sah zuletzt Sky Ladder: The Art Of Cai Guo-Qiang und Stefan war bei John Wick: Chapter 2 im Kino.
Review
Dieses Mal haben wir Adam McKays 2015er Börsen/Immobilien-Dramödie The Big Short unter die Lupe genommen.
Show Notes
00:00:00 Begrüßung
00:00:14 Zuhörer-Feedback zum NarrenTalk Podcast No. 126: Nightcrawler
00:04:15 Trailer: Aftermath
00:08:00 Trailer: Fabricated City
00:09:55 Trailer: Vengeance: A Love Story
00:13:07 Trailer: Song To Song
00:16:07 Trailer: The Bad Batch
00:20:32 Trailer: Colossal
00:23:00 Last Seen: Sky Ladder: The Art Of Cai Guo-Qiang
00:32:30 Last Seen: John Wick: Chapter 2
00:44:35 Review: The Big Short
01:04:45 Und Tschüss
Podcast: Download (Duration: 1:04:58 — 59.5MB)
NarrenTalk abonnieren: Apple Podcasts | Google Podcasts | Spotify | Amazon Music | RSS