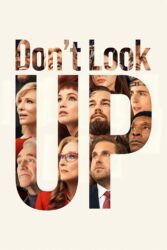 Wolfgang, Andreas und Stefan begrüßen euch zum NarrenTalk No. 207.
Trailer
Wir sprechen über die Trailer zu Here Before, Caught in Time, Studio 666, X und KIMI.
Last Seen
Andreas sah zuletzt Hawkeye (Season 01), The Faible sowie The Faible: The Killer Who Doesn't Kill. Stefan hat sich Vendetta, The Turning un Seance angesehen. Wolfgang stellt uns Josie And The Pussycats und The Last Duel vor.
Review
Wir besprechen die starbesetzte Science Fiction-Komödie Don't Look Up.
Jahresrückblick 2021
Wir blicken zurück auf unser persönliches Filmjahr 2021.
Show Notes
00:00:00 Begrüßung
00:00:30 Trailer: Here Before
00:02:57 Trailer: Caught in Time
00:08:03 Trailer: Studio 666
00:10:26 Trailer: X
00:14:48 Trailer: KIMI
00:19:25 Last Seen – Filmschnipsel: Hawkeye (Season 01) / The Faible / The Faible: The Killer Who Doesn't Kill
00:41:44 Last Seen – Filmschnipsel: Vendetta / The Turning / Seance
01:01:07 Last Seen – Filmschnipsel: Josie And The Pussycats / The Last Duel
01:16:04 Review: Don't Look Up
01:51:13 Jahresrückblick 2021
02:15:48 Und Tschüss
Podcast: Download (Duration: 2:16:07 — 124.7MB)
NarrenTalk abonnieren: Apple Podcasts | Google Podcasts | Spotify | Amazon Music | RSS