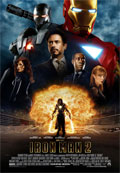 René (Alucard), Stefan (StS), Andreas (daemonicus) und Wolfgang (wolfman) begrüßen euch zu NarrenTalk No. 39.
Trailer
Wir sprechen über die Trailer zu Marwencol, Welcome To The Rileys, Faster und My Soul To Take.
Last Seen
Andreas reicht seine Meinung zu Resident Evil: Afterlife nach und Wolfgang spricht über Grindhouse sowie Dollhouse (Season 2). Stefan warnt uns vor Legion, empfiehlt uns dafür aber The Vampire Diaries (Season 1). René nimmt uns mit Romancing The Stone (Auf der Jagd nach dem grünen Diamanten) und The Jewel Of The Nile (Auf der Jagd nach dem Juwel vom Nil) zurück in die 80er und rät uns von The Cell 2 ab.
Movie-Review
Zum deutschen Blu-ray-Relase besprechen wir heute Iron Man 2 als Hauptreview.
Show Notes
00:00:00 Intro / Begrüßung
00:00:50 Trailer: Marwencol
00:03:50 Trailer: Welcome To The Rileys
00:07:30 Trailer: Faster
00:09:23 Trailer: My Soul To Take
00:12:00 Last Seen: Resident Evil: Afterlife
00:16:05 Last Seen: Grindhouse
00:26:36 Last Seen: Dollhouse (Season 2)
00:32:01 Last Seen: Legion
00:39:12 Last Seen: The Vampire Diaries (Season 1)
00:48:49 Last Seen: Romancing The Stone (Auf der Jagd nach dem grünen Diamanten)
00:52:20 Last Seen: The Jewel Of The Nile (Auf der Jagd nach dem Juwel vom Nil)
00:57:31 Last Seen: The Cell 2
01:06:45 Review: Iron Man 2
01:33:05 Und Tschüss / Outro
Podcast: Download (Duration: 1:34:36 — 86.6MB)
NarrenTalk abonnieren: Apple Podcasts | Google Podcasts | Spotify | Amazon Music | RSS