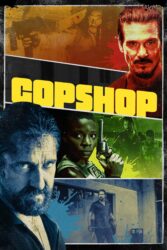 Stefan, Wolfgang und Andreas begrüßen euch zum NarrenTalk No. 208.
Trailer
Wir sprechen über die Trailer zu I'll find you, Glasshouse, Tollbooth, Monstrous und Hatching.
Last Seen
Andreas hat sich Monsters Club, The Divine Fury, Pulse, Amandla, Man and Chicken, Monsters University und Django & Django angesehen. Stefan hat die gesamte Scream-Reihe mit allen fünf Teilen Revue passieren lassen. Wolfgang hat sich Hitman's Wife's Bodyguard angesehen.
Review
Mit Copshop besprechen wir Joe Carnahans aktuellen Film.
Show Notes
00:00:00 Begrüßung
00:00:20 Trailer: I'll find you
00:04:30 Trailer: Glasshouse
00:07:09 Trailer: Tollbooth
00:08:52 Trailer: Monstrous
00:13:18 Trailer: Hatching
00:17:10 Last Seen – Filmschnipsel: Monsters Club / The Divine Fury / Pulse / Amandla / Man and Chicken / Monsters University / Django & Django
00:34:51 Last Seen – Filmschnipsel: Scream 1-5
01:02:18 Last Seen – Filmschnipsel: Hitman's Wife's Bodyguard
01:13:35 Review: Copshop
01:40:11 Und Tschüss
Podcast: Download (Duration: 1:41:39 — 73.0MB)
NarrenTalk abonnieren: Apple Podcasts | Google Podcasts | Spotify | Amazon Music | RSS