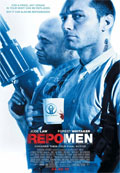 Zu NarrenTalk No. 41 begrüßen euch Wolfgang (wolfman), Andreas (daemonicus) und Stefan (StS).
Trailer
Wir sabbern über den Trailer zu Sucker Punch, stellen Blubberella Bloodrayne 3: The Third Reich gegenüber und lassen Friends With Benefits gegen No Strings Attached antreten.
Last Seen
Stefan stellt uns Grace vor und reicht seine Meinung zu Dollhouse (Season 2) nach. Wolfgang sah Damages (Season 1) und Andreas bespricht Tell-Tale (Das schwarze Herz) und Frozen River.
Movie-Review
Repo Men ist unser Hauptreview in dieser Ausgabe.
Show Notes
00:00:00 Intro / Begrüßung
00:00:49 Trailer: Sucker Punch
00:08:24 Trailer: Blubberella vs. Bloodrayne 3: The Third Reich
00:14:17 Trailer: Friends With Benefits vs. No Strings Attached
00:20:22 Last Seen: Grace
00:30:09 Last Seen: Dollhouse (Season 2)
00:38:56 Last Seen: Damages (Season 1)
00:46:12 Last Seen: Tell-Tale (Das schwarze Herz)
00:52:48 Last Seen: Frozen River
01:00:36 Review: Repo Men
01:24:24 Und Tschüss / Outro
Podcast: Download (Duration: 1:26:18 — 79.0MB)
NarrenTalk abonnieren: Apple Podcasts | Google Podcasts | Spotify | Amazon Music | RSS