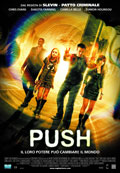 Stefan (StS), Andreas (daemonicus) und René (Alucard) präsentieren euch heute den NarrenTalk No. 12.
Trailer
Wir sprechen über die Trailer zu The Informant und Daybreakers.
Last Seen
Bei Stefan ist heute das Remake von Friday the 13th angesagt. Andreas hat den Midnight Meat Train genommen und René zeigt uns The Cave.
Movie-Review
Als Hauptreview sprechen wir heute über Push.
Das Leben ist zu kurz für schlechte Filme
Und abschließend noch eine Warnung vor Fighting.
Show Notes
00:00:00 – 00:01:13 Intro / Begrüssung
00:01:14 – 00:03:16 Trailer: The Informant
00:03:17 – 00:07:52 Trailer: Daybreakers
00:07:53 – 00:17:15 Last Seen: Friday the 13th (Remake)
00:17:16 – 00:24:09 Last Seen: Midnight Meat Train
00:24:10 – 00:29:31 Last Seen: The Cave
00:29:32 – 00:52:30 Review: Push (UK Blu-ray)
00:52:31 – 00:57:55 Das Leben ist zu kurz für schlechte Filme: Fighting
00:57:56 – 00:58:54 Und Tschüss / Outro
Podcast: Download (Duration: 58:54 — 53.9MB)
NarrenTalk abonnieren: Apple Podcasts | Google Podcasts | Spotify | Amazon Music | RSS