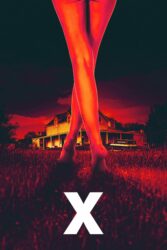 Stefan, Andreas und Wolfgang begrüßen euch zum NarrenTalk No. 217.
Trailer
Wir sprechen über die Trailer zu Operation Seawolf, TÁR, The Good Nurse, My Best Friend's Excorcism und Significant Other.
Last Seen
Andreas hat sich Under Her Control (La jefa) und Barbarian Queen angesehen. Wolfgang hat sich mit True Romance, Crimson Tide, The Taking Of Pelham 123, The Last Boy Scout, Man on Fire und Domino an Tony Scott's Filmographie abgearbeitet. Und Stefan sah Samaritan.
Review
Wir besprechen Ti West's 70er-Jahre Mischung aus Horror & Porno: X. Abschließend haben wir uns dann noch den Trailer zum Prequel Pearl angesehen.
Show Notes
00:00:00 Begrüßung
00:00:35 Trailer: Operation Seawolf
00:04:47 Trailer: TÁR
00:09:13 Trailer: The Good Nurse
00:13:04 Trailer: My Best Friend's Exorcism
00:16:55 Trailer: Significant Other
00:21:04 Last Seen – Filmschnipsel: Under Her Control (La jefa) / Barbarian Queen
00:31:50 Last Seen – Filmschnipsel: Auswahl aus Tony Scott's Filmographie
00:51:02 Last Seen: Samaritan
01:02:13 Review: X
01:40:33 Trailer: Pearl
01:47:43 Und Tschüss
Podcast: Download (Duration: 1:48:03 — 79.7MB)
NarrenTalk abonnieren: Apple Podcasts | Google Podcasts | Spotify | Amazon Music | RSS