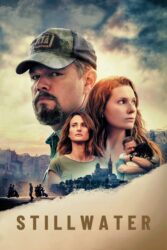 Stefan und Andreas begrüßen euch zum NarrenTalk No. 231.
Trailer
Wir sprechen über die Trailer zu Sympathy for the Devil, Amanda, Bibi, Bottoms, Landscape with invisible Hand und Cobweb.
Last Seen
Andreas stellt uns Spider-Man: Across the Spider-Verse, Avatar: The Way of Water, Let the Corpses Tan vor. Stefan sah Hellraiser (2022) und The Disaster Artist.
Review
Wir besprechen Stillwater, wo es Matt Damon als amerikanischen Roughneck nach Marseille verschlägt.
Show Notes
00:00:00 Begrüßung
00:00:32 Trailer: Sympathy for the Devil
00:02:25 Trailer: Amanda
00:04:22 Trailer: Bibi
00:05:45 Trailer: Bottoms
00:07:37 Trailer: Landscape with invisible Hand
00:09:48 Trailer: Cobweb
00:12:53 Last Seen – Filmschnipsel: Spider-Man: Across the Spider-Verse / Avatar: The Way of Water / Let the Corpses Tan
00:27:40 Last Seen – Filmschnipsel: Hellraiser (2022) / The Disaster Artist
00:52:14 Review: Stillwater
01:21:47 Und Tschüss
Podcast: Download (Duration: 1:22:03 — 60.3MB)
NarrenTalk abonnieren: Apple Podcasts | Google Podcasts | Spotify | Amazon Music | RSS