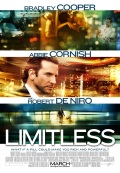 Zu NarrenTalk No. 57 begrüssen euch Wolfgang (wolfman), Andreas (daemonicus) und Stefan (StS).
Trailer
Wir besprechen die Trailer zu Contraband, John Dies At The End und The Avengers.
Last Seen
Stefan sah zuletzt I Am Number Four und Generation Kill. Bei Andreas war es TRON: Legacy und bei Wolfgang Nikita (Season 1).
Movie-Review
Als Hauptreview besprechen wir in dieser Ausgabe Limitless (aka Ohne Limit) mit Bradley Cooper.
Show Notes
00:00:00 Begrüßung
00:00:35 Trailer: Contraband
00:03:45 Trailer: John Dies At The End
00:08:26 Trailer: The Avengers
00:18:00 Last Seen: I Am Number Four
00:26:29 Last Seen: Generation Kill
00:38:20 Last Seen: TRON: Legacy
00:49:09 Last Seen: Nikita (Season 1)
00:56:45 Review: Limitless (aka Ohne Limit)
01:16:14 Und Tschüss
Podcast: Download (Duration: 1:16:36 — 70.1MB)
NarrenTalk abonnieren: Apple Podcasts | Google Podcasts | Spotify | Amazon Music | RSS