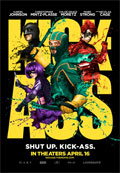 Zu NarrenTalk No. 38 begrüßen euch Andreas (daemonicus), Stefan (StS), René (Alucard) und Wolfgang (wolfman).
Trailer
Wir sprechen über die Trailer zu True Grit und Hereafter.
Last Seen
Wolfgang stellt uns The Big Bang Theory – Season 3 vor und René sah Resident Evil: Afterlife im Kino. Andreas sagt uns seine Meinung zu The Taking Of Pelham 123 (Die Entführung der U-Bahn Pelham 123) und A Single Man. Stefan sah After.Life, gefiel The Town und lobt Scott Pilgrim Vs. The World.
Movie-Review
Als Hauptreview besprechen wir heute Kick-Ass.
Podcast-Umfrage
podcast.de und BlueSky Media führen aktuell ihre 3. Podcast-Studie durch und wir möchten alle NarrenTalk-Hörer bitten, daran teilzunehmen.
Show Notes
00:00:00 Intro / Begrüßung
00:00:54 Trailer: True Grit
00:03:24 Trailer: Hereafter
00:06:59 Last Seen: Big Bang Theory – Season 3
00:12:42 Last Seen: Resident Evil: Afterlife
00:20:46 Last Seen: The Taking Of Pelham 123 (Die Entführung der U-Bahn Pelham 123)
00:24:33 Last Seen: A Single Man
00:30:37 Last Seen: After.Life
00:38:01 Last Seen: The Town
00:45:40 Last Seen: Scott Pilgrim Vs. The World
00:54:46 Review: Kick-Ass
01:08:43 Und Tschüss / Outro
Podcast: Download (Duration: 1:11:33 — 65.5MB)
NarrenTalk abonnieren: Apple Podcasts | Google Podcasts | Spotify | Amazon Music | RSS