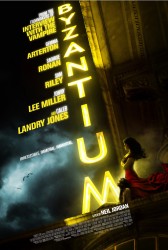 Stefan, Wolfgang und Andreas begrüßen euch zum NarrenTalk No. 106.
Trailer
Wir sprechen über die Trailer zu Zombeavers, Rampage 2: You End Now!, Daylight's End und Under The Skin.
Last Seen
Wolfgang sah zuletzt Rush, Stefan Now You See Me (aka Die Unfassbaren) sowie RoboCop (2014) und Andreas The Perks Of Being A Wallflower (aka Vielleicht lieber Morgen).
Review
Wir besprechen dieses mal Byzantium von Neil Jordan und mit Saoirse Ronan & Gemma Arterton.
Show Notes
00:00:00 Begrüßung
00:00:27 Trailer: Zombeavers
00:03:07 Trailer: Rampage 2: Now You End!
00:06:28 Trailer: Daylight's End
00:09:10 Trailer: Under The Skin
00:11:41 Last Seen: Rush
00:19:52 Last Seen: Now You See Me (aka Die Unfassbaren)
00:27:56 Last Seen: RoboCop (2014)
00:46:58 Last Seen: The Perks Of Being A Wallflower (aka Vielleicht lieber Morgen)
01:00:39 Review: Byzantium
01:22:46 Und Tschüss
Podcast: Download (Duration: 1:23:09 — 76.1MB)
NarrenTalk abonnieren: Apple Podcasts | Google Podcasts | Spotify | Amazon Music | RSS