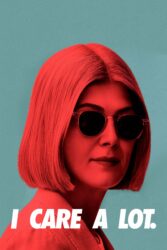 Wolfgang, Andreas und Stefan begrüßen euch zum NarrenTalk No. 195.
Trailer
Wir sprechen über die Trailer zu Cosmic Sin, Slaxx, Voyagers, Mortal Kombat und Without Remorse.
Last Seen
Stefan sah zuletzt Behind her Eyes. Wolfgang reicht seine Meinung zu Songbird nach und erzählt uns kurz etwas zu Disclosure, Blast from the Past, Cookie's Fortune und On Deadly Ground. Und Andreas sah Der goldene Handschuh, Guns Akimbo, The Debt Collector 2 und Possessor.
Review
Wir besprechen die schwarze Krimi-Komödie I Care A Lot mit Rosamund Pike.
Die Tonprobleme und kleinen Aussetzer in der Aufnahme bitten wir zu entschuldigen!
Show Notes
00:00:00 Begrüßung
00:00:28 Trailer: Cosmic Sin
00:03:58 Trailer: Slaxx
00:05:36 Trailer: Voyagers
00:07:47 Trailer: Mortal Kombat
00:11:12 Trailer: Without Remorse
00:12:45 Last Seen: Behind her Eyes (Sie weiß von ihr)
00:24:47 Last Seen: Songbird
00:28:28 Last Seen – Filmschnipsel: Disclosure (Enthüllung), Blast from the Past (Eve und der letzte Gentleman), Cookie's Fortune (Aufruhr in Holly Springs), On Deadly Ground (Auf brennendem Eis)
00:38:48 Last Seen – Filmschnipsel: Der goldene Handschuh, Guns Akimbo, The Debt Collector 2 (Debt Collectors), Possessor
00:55:54 Review: I Care A Lot
01:19:35 Und Tschüss
Podcast: Download (Duration: 1:19:50 — 55.6MB)
NarrenTalk abonnieren: Apple Podcasts | Google Podcasts | Spotify | Amazon Music | RSS