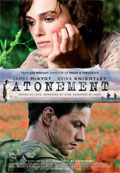 Der NarrenTalk No. 16 wird euch präsentiert von Andreas (daemonicus), René (Alucard) und Wolfgang (wolfman).
Trailer
Wir sprechen dieses mal über die Trailer zu Boondock Saints 2, Up in the Air und Men who stare at Goats.
Last Seen
René sah zuletzt Bride Wars und Home. Wolfgang hat sich Dollhouse – Season 1, Tru Calling und alle vier Teile von The Fast & The Furious angesehen. The Listening und The Happening sah Andreas vor kurzem.
Movie-Review
Als Hauptreview haben wir heute Abbitte – Atonement mit Keira Knigtley und James McAvoy für euch.
Show Notes
00:00:00 – 00:00:49 Intro / Begrüßung
00:00:50 – 00:03:56 Trailer: Boondock Saints 2
00:03:57 – 00:06:48 Trailer: Up in the Air
00:06:49 – 00:09:12 Trailer: Men who stare at Goats
00:09:13 – 00:11:19 Last Seen: Bride Wars
00:11:20 – 00:16:25 Last Seen: Home
00:16:26 – 00:20:27 Last Seen: Dollhouse – Season 1
00:20:28 – 00:23:41 Last Seen: Tru Calling
00:23:42 – 00:28:24 Last Seen: The Fast & The Furious 1 – 4
00:28:25 – 00:32:59 Last Seen: The Listening
00:33:00 – 00:43:32 Last Seen: The Happening (ab 00:36:00 SPOILER!!!)
00:43:33 – 01:11:39 Review: Abbitte – Atonement (SPOILER!!!)
01:11:40 – 01:12:52 Und Tschüss / Outro
Podcast: Download (Duration: 1:12:53 — 66.7MB)
NarrenTalk abonnieren: Apple Podcasts | Google Podcasts | Spotify | Amazon Music | RSS