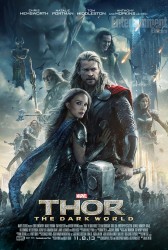 Wolfgang, Andreas und Stefan begrüßen euch zum NarrenTalk No. 111.
Trailer
Wir sprechen über die Trailer zu Kingsman: The Secret Service, V/H/S Viral, Interstellar, Jarhead 2: Field Of Fire, The Salvation und Monsters: Dark Continent.
Last Seen
Andreas hat Gremlins ausgegraben. Stefan sah Escape Plan, Tracks sowie Godzilla. Und Wolfgang hat sich Firestorm angesehen.
Review
Wir begeben uns ins Marvel Universum und besprechen Thor – The Dark World, oder auch bekannt unter dem deutschen Titel Thor – The Dark Kingdom (WTF!!!).
Show Notes
00:00:00 Begrüßung
00:00:24 Trailer: Kingsman: The Secret Service
00:03:02 Trailer: V/H/S Viral
00:05:03 Trailer: Interstellar
00:07:27 Trailer: Jarhead 2: Field Of Fire
00:10:48 Trailer: The Salvation
00:14:10 Trailer: Monsters: Dark Continent
00:17:21 Last Seen: Gremlins
00:28:25 Last Seen: Escape Plan
00:39:46 Last Seen: Tracks
00:50:41 Last Seen: Godzilla
01:05:26 Last Seen: Firestorm
01:13:53 Review: Thor – The Dark World (aka Thor – The Dark Kingdom)
01:38:24 Und Tschüss
Podcast: Download (Duration: 1:38:39 — 90.3MB)
NarrenTalk abonnieren: Apple Podcasts | Google Podcasts | Spotify | Amazon Music | RSS