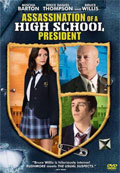 René (Alucard), Andreas (daemonicus), Stefan (StS) und Wolfgang (wolfman) begrüßen euch auch dieses mal wieder zum NarrenTalk No. 27.
Trailer
Wir sprechen über die Trailer von Centurion, Cop Out und Killers.
Last Seen
Andreas stellt uns heute Gamer, House Of The Devil und Dark City vor. Stefan war bei The Wolfman im Kino, während René zuhause Mad Men, Pandorum und Dying Breed sah. Wolfgang erzählt uns etwas zur Resident Evil Trilogie und empfiehlt Saving Face.
Movie-Review
In unserem Hauptreview sprechen wir über Assassination Of A Highschool President der in Deutschland unter dem schönen Titel Lange Beine, kurze Lügen und ein Fünkchen Wahrheit… erschienen ist.
Show Notes
00:00:00 Intro / Begrüßung
00:00:58 Trailer: Centurion
00:03:38 Trailer: Cop Out
00:07:27 Trailer: Killers
00:09:20 Last Seen: Gamer
00:18:50 Last Seen: House Of The Devil
00:27:54 Last Seen: Dark City
00:38:42 Last Seen: The Wolfman
00:52:09 Last Seen: Mad Men
00:55:08 Last Seen: Pandorum
01:00:10 Last Seen: Dying Breed
01:03:39 Last Seen: Resident Evil Trilogie
01:08:43 Last Seen: Saving Face
01:15:43 Review: Assassination Of A Highschool President (aka Lange Beine, kurze Lügen und ein Fünkchen Wahrheit…)
01:38:23 Und Tschüss / Outro
Podcast: Download (Duration: 1:39:42 — 91.3MB)
NarrenTalk abonnieren: Apple Podcasts | Google Podcasts | Spotify | Amazon Music | RSS