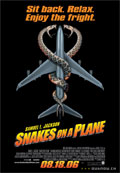 René (Alucard), Stefan (StS), Andreas (daemonicus) und Wolfgang (wolfman) präsentieren euch den NarrenTalk No. 17.
Trailer
Wir sprechen über den Trailer zu A Nightmare On Elm Street.
Last Seen
Unser Last Seen-Bereich ist dieses mal etwas umfangreicher. Andreas hat The Informant! und Rules Of Attraction gesehen. Bei René war es Fanboys und Boston Legal. Wolfgang sah zuletzt Brügge sehen… und sterben?, Terminator – The Sarah Connor Chronicles – Season 2 sowie Firefly & Serenity. Und Stefan erzählt uns etwas zu Dollhouse – Season 1, Passengers und The Last House On The Left.
Movie-Review
Snakes On A Plane ist in dieser Ausgabe unser Hauptreview.
Show Notes
00:00:00 – 00:00:57 Intro / Begrüßung
00:00:58 – 00:09:51 Trailer: A Nightmare On Elm Street
00:09:52 – 00:14:24 Last Seen: The Informant!
00:14:25 – 00:20:54 Last Seen: Rules Of Attraction
00:20:55 – 00:30:49 Last Seen: Fanboys
00:30:50 – 00:39:38 Last Seen: Boston Legal
00:39:39 – 00:43:24 Last Seen: Brügge sehen… und sterben?
00:43:25 – 00:50:08 Last Seen: Terminator – The Sarah Connor Chronicles – Season 2
00:50:09 – 00:58:20 Last Seen: Firefly & Serenity
00:58:21 – 01:08:54 Last Seen: Dollhouse – Season 1
01:08:55 – 01:15:35 Last Seen: Passengers
01:15:36 – 01:25:49 Last Seen: The Last House On The Left
01:25:50 – 01:41:58 Review: Snakes On A Plane
01:41:59 – 01:43:48 Und Tschüss / Outro
Podcast: Download (Duration: 1:43:48 — 95.0MB)
NarrenTalk abonnieren: Apple Podcasts | Google Podcasts | Spotify | Amazon Music | RSS