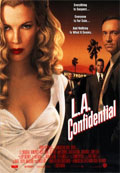 Wolfgang (wolfman), Stefan (StS) und Andreas (daemonicus) begrüßen euch zu NarrenTalk No. 49.
Trailer
Dieses mal sprechen wir über die Trailer zu The Bang Bang Club, Wrecked und Beautiful Boy.
Last Seen
Andreas war auf den Fantasy Filmfest Nights und hat dort folgende Filme gesehen: Wake Wood, Essential Killing, Mother's Day, The Hole 3D, Trollhunter, Secuestrados (Kidnapped) und I Spit On Your Grave. Stefan sah Drive Angry und Let Me In.
Movie-Review
Mit L.A. Confidential besprechen wir mal wieder einen etwas älteren Film.
Show Notes
00:00:00 Intro / Begrüßung
00:01:07 Trailer: The Bang Bang Club
00:02:55 Trailer: Wrecked
00:05:17 Trailer: Beautiful Boy
00:08:52 Last Seen: Wake Wood
00:12:53 Last Seen: Essential Killing
00:25:28 Last Seen: Mother's Day
00:32:34 Last Seen: The Hole 3D
00:38:25 Last Seen: Trollhunter
00:42:35 Last Seen: Secuestrados (Kidnapped)
00:45:44 Last Seen: I Spit On Your Grave
00:54:55 Last Seen: Drive Angry
01:04:44 Last Seen: Let Me In
01:19:56 Review: L.A. Confidential
01:38:42 Und Tschüss / Outro
Podcast: Download (Duration: 1:40:55 — 92.4MB)
NarrenTalk abonnieren: Apple Podcasts | Google Podcasts | Spotify | Amazon Music | RSS