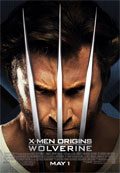 NarrenTalk No. 19 wird euch präsentiert von Andreas (daemonicus), René (Alucard) und Stefan (StS).
Trailer
Wir sprechen über die Trailer zu Mr. Nobody, Smokin' Aces 2 – Assassins' Ball und Green Zone.
Last Seen
Andreas hat zuletzt Fermat's Room gesehen. Bei René war es Coraline und Sons of Anarchy. Hellboy II – The Golden Army und The Notorious Bettie Page sah Stefan zuletzt.
Movie-Reviews
X-Men Origins: Wolverine, der letzte Streich aus dem Marvel-Universum, ist heute unser Hauptreview.
Show Notes
00:00:00 – 00:01:04 Intro / Begrüßung
00:01:05 – 00:08:39 Trailer: Mr. Nobody
00:08:40 – 00:11:43 Trailer: Smokin' Aces 2 – Assassins' Ball
00:11:44 – 00:14:44 Trailer: Green Zone
00:14:45 – 00:22:29 Last Seen: Fermat's Room
00:22:30 – 00:32:09 Last Seen: Coraline
00:32:10 – 00:34:49 Last Seen: Sons of Anarchy
00:34:50 – 00:39:45 Last Seen: Hellboy II – The Golden Army
00:39:46 – 00:45:07 Last Seen: The Notorious Bettie Page
00:45:08 – 00:58:25 Review: X-Men Origins: Wolverine
00:58:26 – 00:59:14 Und Tschüss / Outro
00:59:15 – 01:04:55 Bonus: "Vinyan"-Talk (Mild Spoilers!)
Podcast: Download (Duration: 1:05:04 — 59.6MB)
NarrenTalk abonnieren: Apple Podcasts | Google Podcasts | Spotify | Amazon Music | RSS