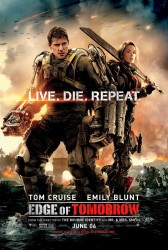 Andreas, Wolfgang und Stefan begrüßen euch zum NarrenTalk No. 117.
Trailer
Wir sprechen über die Trailer zu Avengers: Age Of Ultron, Insidious: Chapter 3, The Gambler, Dying Of The Light, Focus und In The Heart Of The Sea.
Last Seen
Wolfgang sah zuletzt The Raid 2: Berandal, Stefan jOBS und Andreas The Grand Budapest Hotel.
Review
Wir besprechen Doug Limans Murmeltier-Variante Edge Of Tomorrow mit Tom Cruise und Emily Blunt.
Show Notes
00:00:00 Begrüßung
00:00:31 Trailer: Avengers: Age Of Ultron
00:05:35 Trailer: Insidious: Chapter 3
00:08:31 Trailer: The Gambler
00:10:54 Trailer: Dying Of The Light
00:14:13 Trailer: Focus
00:16:33 Trailer: In The Heart Of The Sea
00:20:38 Last Seen: The Raid 2: Berandal
00:31:51 Last Seen: jOBS
00:41:02 Last Seen: The Grand Budapest Hotel
00:51:51 Review: Edge Of Tomorrow
01:10:56 Und Tschüss
Podcast: Download (Duration: 1:11:09 — 65.2MB)
NarrenTalk abonnieren: Apple Podcasts | Google Podcasts | Spotify | Amazon Music | RSS