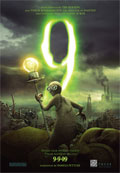 Zu NarrenTalk No. 36 begrüßen euch René (Alucard), Stefan (StS) und Andreas (daemonicus).
Trailer
Tomorrow, When The War Began und Sucker Punch sind unsere heutigen Trailer.
Last Seen
Stefan stellt uns Saw VI und Universal Soldier: Regeneration vor. Andreas war wenig begeistert von Crank 2: High Voltage und The Twilight Saga: New Moon. René sah zuletzt The Twilight Saga: Eclipse, Did You Hear About The Morgans? (Haben Sie das von den Morgans gehört?) und Black Dynamite.
Movie-Review
Als Hauptfilm besprechen wir heute 9.
Top-3
Passend zu unserem Hauptreview stellen wir euch heute unsere Top-3 der Filme vor, deren Titel maßgeblich aus Zahlen besteht.
Show Notes
00:00:00 Intro / Begrüßung
00:01:01 Trailer: Tomorrow, When The War Began
00:04:42 Trailer: Sucker Punch
00:11:28 Last Seen: Saw VI
00:18:18 Last Seen: Universal Soldier: Regeneration
00:26:18 Last Seen: Crank 2: High Voltage
00:33:12 Last Seen: The Twilight Saga: New Moon
00:43:05 Last Seen: The Twilight Saga: Eclipse
00:54:45 Last Seen: Did You Hear About The Morgans? (Haben Sie das von den Morgans gehört?)
01:01:04 Last Seen: Black Dynamite
01:07:22 Review: 9
01:19:31 Top-3: Filme mit Zahlen im Titel
01:26:21 Und Tschüss / Outro
Podcast: Download (Duration: 1:27:41 — 80.3MB)
NarrenTalk abonnieren: Apple Podcasts | Google Podcasts | Spotify | Amazon Music | RSS