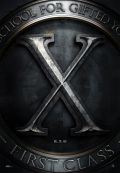 Endlich mal wieder vollzählig, präsentieren Euch Andreas (daemonicus), René (Alucard), Stefan (StS) und Wolfgang (wolfman) den Narrentalk No. 58.
Trailer
Unsere Trailer-Auswahl besteht dieses Mal aus den Vorschauen zu Chronicle, The Flowers Of War, Piranha 3DD sowie zum asiatischen Action-Kracher The Raid.
Last Seen
Wolfgang hat sich zuletzt selbst von der Qualität der Mini-Serie Generation Kill überzeugt – und sich zudem an der Comic-Verfilmung Green Lantern versucht. René nahm sich sowohl die dritte Staffel von Sons Of Anarchy als auch das Tanz-Drama Make It Happen vor, während Andreas es mit Battle: Los Angeles (aka World Invasion: Battle Los Angeles so richtig krachen ließ und mit Wasted On The Young erneut einen australischen Streifen im Player hatte. Stefan dagegen schaute sich im Kino Contagion an – und griff (statt zum Buch) zur 2011er Filmadaption von Charlotte Brontës Klassiker Jane Eyre.
Movie-Review
Im Rahmen unseres Hauptreviews haben wir schließlich die filmische X-Men-Vorgeschichte X-Men: First Class (aka X-Men: Erste Entscheidung) unter die Lupe genommen.
Show Notes
00:00:00 Begrüßung
00:00:38 Trailer: Chronicle
00:03:54 Trailer: The Flowers Of War
00:08:53 Trailer: Piranha 3DD
00:12:45 Trailer: The Raid
00:15:29 Last Seen: Generation Kill
00:17:57 Last Seen: Green Lantern
00:24:32 Last Seen: Sons Of Anarchy (Season 3)
00:29:31 Last Seen: Make It Happen
00:33:57 Last Seen: Battle: Los Angeles (aka World Invasion: Battle Los Angeles)
00:41:08 Last Seen: Wasted On The Young
00:47:06 Last Seen: Contagion
00:57:16 Last Seen: Jane Eyre
01:07:32 Review: X-Men: First Class (aka X-Men: Erste Entscheidung)
01:27:51 Und Tschüss
Podcast: Download (Duration: 1:28:15 — 80.8MB)
NarrenTalk abonnieren: Apple Podcasts | Google Podcasts | Spotify | Amazon Music | RSS