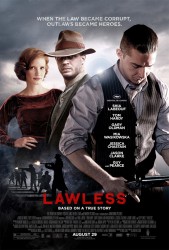 Stefan, Andreas , Wolfgang und René begrüßen euch zum NarrenTalk No. 90.
Trailer
Wir sprechen über die Trailer zu Gravity, As I Lay Dying, Captain Phillips, Ender's Game, The World's End und White House Down.
Last Seen
Andreas stellt uns Star Trek Into Darkness und Compliance vor. Stefan sah Game Of Thrones (Season 01), Das Kind und Iron Man 3. Wolfgang Into The Blue sowie Cutthroat Island und René The Texas Chainsaw Massacre 3D und Elizabethtown.
Review
Wir haben uns Lawless von John Hillcoat angesehen und besprechen diesen heute als gemeinsames Hauptreview.
Show Notes
00:00:00 Begrüßung
00:00:22 Trailer: Gravity
00:04:34 Trailer: As I Lay Dying
00:06:35 Trailer: Captain Phillips
00:08:23 Trailer: Ender's Game
00:11:55 Trailer: The World's End
00:15:35 Trailer: White House Down
00:21:36 Last Seen: Star Trek Into Darkness
00:29:56 Last Seen: Compliance
00:37:13 Last Seen: Game Of Thrones (Season 01)
00:48:34 Last Seen: Das Kind
01:01:31 Last Seen: Iron Man 3
01:11:54 Last Seen: Into The Blue
01:19:55 Last Seen: Cutthroat Island
01:27:01 Last Seen: The Texas Chainsaw Massacre 3D
01:33:59 Last Seen: Elizabethtown
01:41:34 Review: Lawless
01:59:20 Und Tschüss
Podcast: Download (Duration: 2:00:11 — 110.0MB)
NarrenTalk abonnieren: Apple Podcasts | Google Podcasts | Spotify | Amazon Music | RSS